Autorid
Image from camera, video and summary  Tiit Hunt, www.rmk.ee
English translation Liis
Estonian text posted 28.08.2018
Image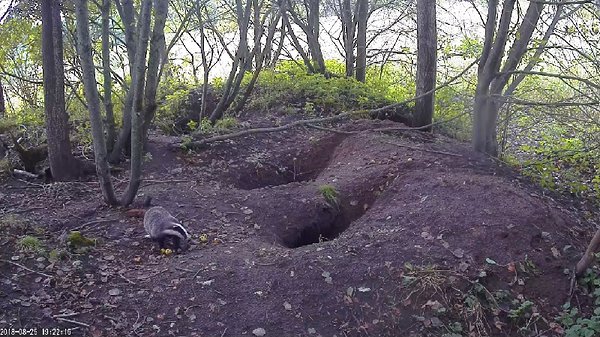 Body
The badger family is doing well as before, two cubs are alive and in good health and parasites do not seem to harass them overmuch. Longer tours out of the badger castle seem to have ended for this year.
Last week the camera had recorded badger activities almost every evening and night and even during some morning hours. We have not seen the old male badger in his home burrow for some time but if he is well and healthy he will return home in due time.
At about half past four a young badger went to sleep outside the burrow accompanied by music from a distance.
In the beginning of the video mother badger playfully trains her cub for an independent life; nearby a robin jumps around, finding some morsels on the ground and peering at the jostlers from a safe distance.
At about three in the night when mother had disappeared  the babies scuffle around. Before, one more juicy apple is eaten, the favourite of many wild animals – a delicacy for unguents,  predators, weasels and other mustelids, rodents.