Autorid
Transmission provided by Teetormaja and EENet
Technical support HATCAM
Introduction Tiit Hunt, www.rmk.ee
English translation Liis
Estonian text posted 28.12.2018
Body
Direct stream  | News | Forum
Stream for mobile devices: iPhone, iPad, Android, VLC
Older computers: flash player
The activities of the red deer (Cervus elaphus) can once again be viewed in the webcam in Saaremaa – for the sixth season from the beginning in 2014. In a few months, at the end of February, it will already be five years since we were able to watch the doings of the deer in real time by way of the webcam for the first time.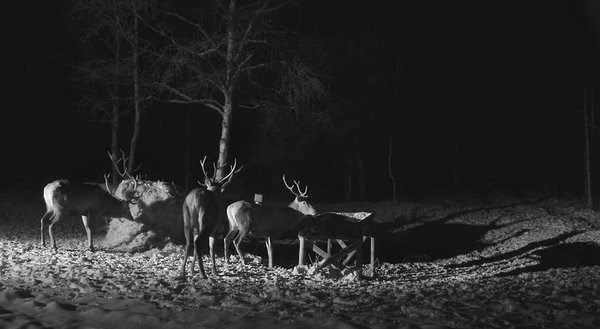 The deer begin to show an interest in the feeding ground only when lasting cold weather arrives and this time the cold period did not start until mid-December. Now in the last week of the year there are already plenty of deer bulls in camera view; the female deer and calves have not got here yet. 
During this half decade several things have happened in the fauna of Saaremaa.
The number of the deer  has increased by nearly 300 individuals to an estimated number of almost 2000 animals. Two  years ago wild boars were still constant and numerous visitors on the deer ground but now the large wild boar flocks have disappeared from here for an unknown period because of the African Swine Fever. Last winter only a solitary young boar could be noted on the ground once.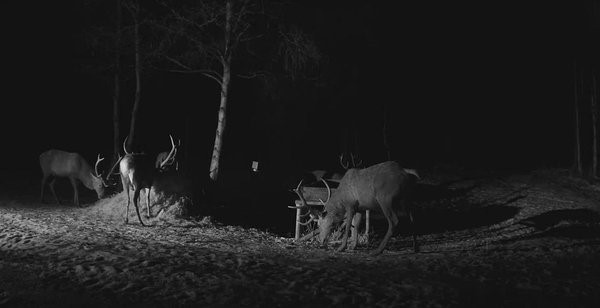 A beautiful fluffy fox has already visited, probably the pine marten will pass by now and then as well as the raccoon dog in milder weather and the badger towards spring; even a wolf has once come into camera view during the previous season.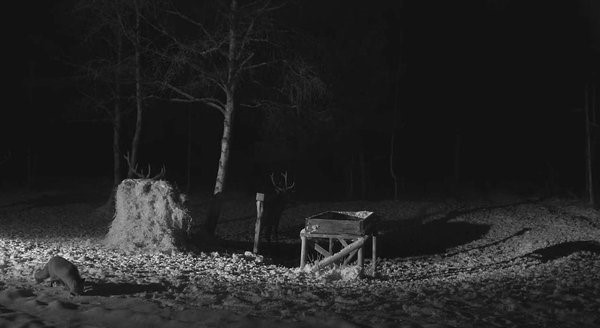 Calls of a tawny owl were heard this morning in a tree beside the camera, the jay found something under and inside the carrot box . We will see what interesting things the camera will show from the deer ground this time.
The video stream from the deer ground is forwarded by way of mobile masts by Teetormaja and is made watchable for viewers by EENet.
Partners in the enterprise: