Autorid
Video recorded by  Bea, LK forum
Estonian text posted 18.07.2019
Body
The same video in slow motion:
Goshawk        Kanakull       Accipiter gentilis
Today after half past three the goshawk again attacked the osprey nest in Võrumaa and managed to drag out one of the young ospreys from the nest, and some time later tried once more to attack the nest.
The adult ospreys were out hunting during the time; the goshawk used the opportunity for an attack.
This year goshawk attacks on osprey nests have become significantly more frequent.
The events of today and a discussion of the topic can be read in the LK forum: LINK
Screencap from webcam  Timea, LK forum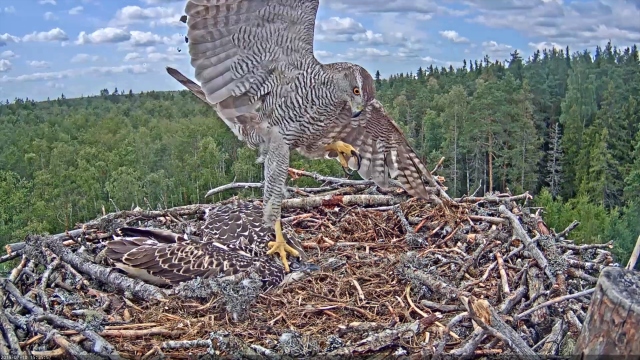 Those who know Finnish can read about a goshawk attack on a nest where the goshawk killed all three young ospreys on July 12: LINK