Autorid
Transmission courtesy of  Teetormaja
Estonian text posted 29.01.2020
Body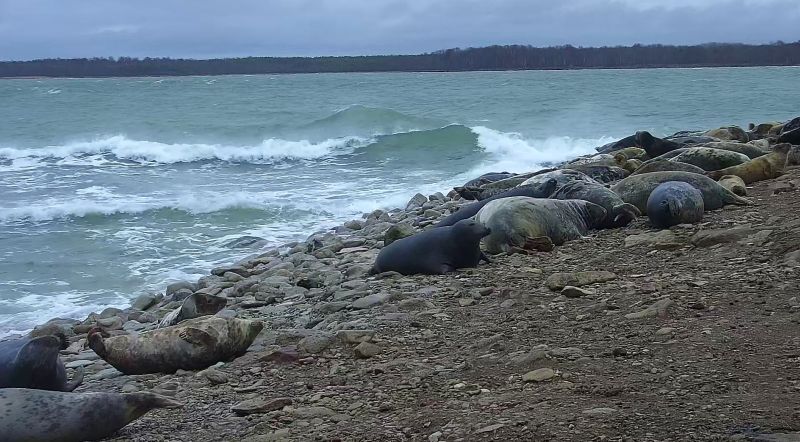 Click on the image above, the live camera view will open in YouTube
Direct stream | News | Forum
The pupping period of the grey seals has started.
The grey seal monitoring camera in the Vilsandi National Park has not been working for some years. We are in a test period for the new system which means that in the running of the web camera there may be malfunctions as well as tests. But the viewers will surely note the quality of the image from the several magnitudes more powerful camera. Economizing with the power use of the camera system during the short winter days is vital since we get all power from solar panels, that is, the transmission depends on the number of sunny days. Thus there will be no transmission during the dark hours.
The restarted and upgraded monitoring camera brings us information on the life and behaviour of the wildlife:
when and how the seals give birth
when and how frequently they suck the pups as well as stay away from them
the relations between the adult seals and their pups
specific individuals can be more certainly identified and tracked and recorded in images in a data base on the basis of fur patterns and other characteristics thanks to the manoeuvrability of the camera and the zooming function
how the seals react on the activities of white-tailed eagles
When the pupping period of the seals ends a brisk bird life period will begin on the island.
Towards autumn (maybe also earlier) the seals return. Through the monitoring camera we will learn when the seals arrive and leave, how frequently they visit? Do they come alone or in groups etc.
It is human curiosity to understand animals and nature, here gaining new information without being in place and disturbing their activities.
The grey seal monitoring camera forum:  on the LK forums site provides a running commentary of events in the web camera.
Participating in the enterprise: