Autorid
Time-lapse video by Omar Neiland
Translation Liis
Estonian text published 16.09.2017
Summary of Friday
Body
Crane        Sookurg       Grus grus
On Friday afternoon the first major migration wave of cranes reached western Estonia from Finland. The north-westerly winds favoured the migrants and in the webcam the massive passing flight was visible from half past five until dark. At least a couple of hundred of cranes stopped for the night in camera view, but already in the dark. They stay for the night in shallow shore waters to avoid all kinds of molesters. The water level was about thirty centimetres above average already the day before yesterday.
The birds that have made a pause in their migration feed in daytime in the harvested grain fields. People who use the roads will notice cranes more frequently now.
Today the wind does not favour the migrants, there was a south-westerly wind up to 15 m/s. But the cranes that had already arrived could be seen and heard from seven o'clock in the afternoon.
We are waiting for suitable migration weather. Then we can provide an estimate of how many cranes make a migration stopover in the Matsalu neighbourhood.
Last night Anti Karlin sent the map showing the resting areas of the Finnish cranes.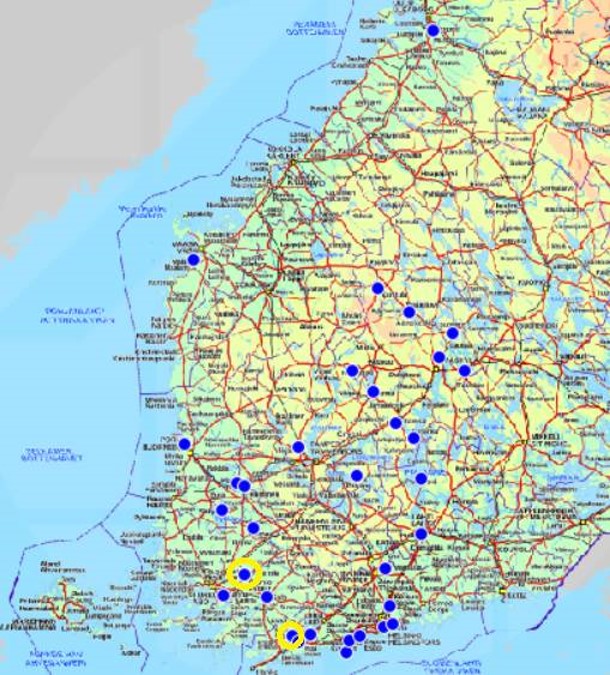 On the map of Finland areas where more than a thousand cranes have gathered are marked in blue. On the southern coast marks in yellow represent more than six thousand birds.
Cranes will be introduced in more detail next week.