Autorid
Video Ahto Täpsi
Photo Arne Ader
Translation Liis
Estonian text posted 15.12.2017 
Grouse cock nibbling at birch buds
Body
Grouse; Black grouse     Teder       Tetrao tetrix
If you notice large splendid birds in winter on birches at forest verges then you have met grouses. If however  similar but a little larger birds are busy in pine stands then instead capercaillies.
On meeting grouse we notice that the male and the female birds have quite different plumages, which is called sexual dimorphism. If you see a small grouse group  (often only a couple of individuals) it consists of only either females or males. See observations from the recent week at the end of this story. They will gather again at the collective displays in early spring, the grouse leks.
The grouse cocks can be seen already after the moulting in early October in the black mating plumage with a metallic sheen. The lyre-shaped tail is created by up to twenty tüürsulge of different lengths; three or four of the outermost are curved, the central feathers straight and considerably longer. On the underside of the tail gleaming white feathers are visible in flight view. The wing feathers are brown-coloured on the upper face with a prominent white band and shoulder patch. On old cocks the red featherless eyebrow wattle is also prominent
The body length of male birds stays at around half a metre, the wing span less than 80 centimetres. The weight varies between individuals  between one and one and a half kilos.
The plumage of the grouse hen looks very modest but the patterned plumage blends well even into a bare landscape. The back plumage is in yellow, brown and grey hues, patterned with black streaks and dots. The chest regularly patterned with bands as well as the slightly forked tail (see lower image):
In winter they keep close to birch and mixed tree stands or copses at the verges of open landscapes since birch buds as well as catkins belong to the main foods. Grouse  won't press into large birch tree stands but they look for food in birch groves in bogs or in wooded meadows.
In periods with little snow they also feed on sprouting grain fields and in various shrubs.
Grouse are stationary birds and inhabit the mainland as well as larger islands, but during the last half century their numbers have become five times smaller. So the situation is really bad.
One reason for the decrease of ground-nesting birds is the large number of small predators ,  although mange has reduced their number and the swine fever cut down  boars but at the same time large-scale forest work has damaged the lek areas as well as the  habitats of grouse.
Observations during the recent week : LINK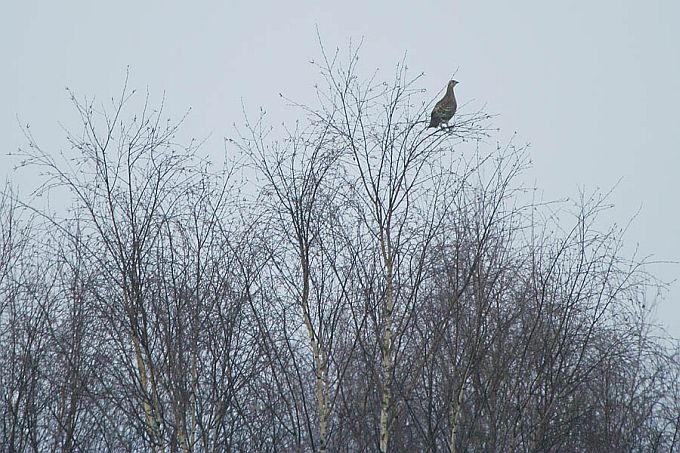 Grouse hen