Autorid
Estonian Environmental Board informs
Photos Roland Müür
Translation Liis
Image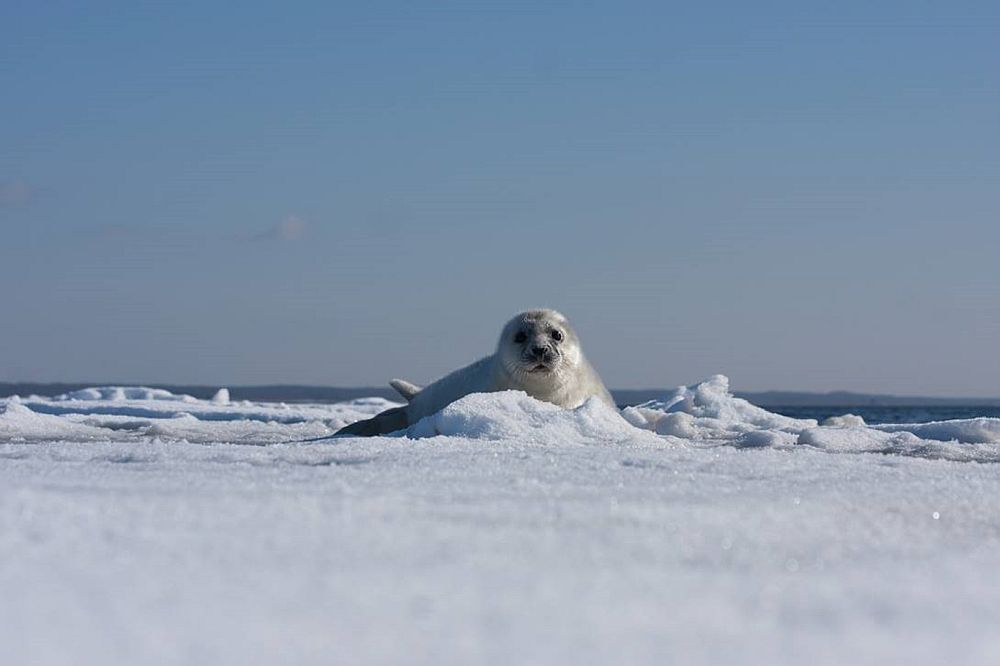 Body
Small grey seal resting on Pärnu bay ice
Disturbing seals may be dangerous for the young seals as well as for humans since female seals may attack the intruder to defend their offspring.
Two of the three seal species in the Baltic are native to Estonia: the grey seal and the ringed seal. Sometimes, but rarely, the harbour seal may also visit here; its habitats are in the southern part of the Baltic, around southern Sweden and in the Danish straits. In spring the Estonian seals moult, sitting on rocks; in summer however they swim in the sea to collect a sufficient fat layer for winter and prepare for the giving of birth to their offspring in winter..
The regular time for giving birth for seals has in fact started – the pups, in white bay fur, are born from the second half of February to mid-March. If possible the female seals keep away from humans. It is simplest in cold winters when the sea is frozen to a great extent.  In warmer winters they have to make do with what nature may offer – to find the last edge of ice or an isle where it is possible to give birth in peace. Dry land however suits only grey seals for pupping; the endangered and few ringed seals can only give birth to their offspring on ice.
"Seals would prefer to give birth on cold clean snow but in warmer periods they have to make do with lying side by side on the bare and humid soil. In muddy conditions they fall ill easier and the larger ones may accidentally crawl across the small ones, which can result in a high mortality rate for the pups. It is  the more important then that people will not disturb seals that have come ashore but will leave them alone to recuperate and to grow", Roland Müür, from the Environmental Board explained.
At birth a grey seal weighs 11-12 kg, and grows fast during the suckling period, incerasing by up to 2 kg per day in weight. The basis for this is the exceptionally high percentage of fat in seal's milk, about 50%. Suckling lasts three weeks and after that the young seals must already be capable to manage on their own. In spring mating and moulting waits, in summer catching fish and building the fat reserves.
By analysing old hunting data researchers have estimated that a century ago there were about 80 000 – 100 000 grey seals in the Baltic. In the 70s the intense  hunting and the pollution of the sea brought the number to only 5-7% of the previous. Today the number of grey seals is reviving, the Baltic population of slightly more than 30 000 individuals increases by 5-6 % per year.
More information:
Roland Müür, Environmental Board