Autorid
Text and photo Aarne
Translation Liis
Image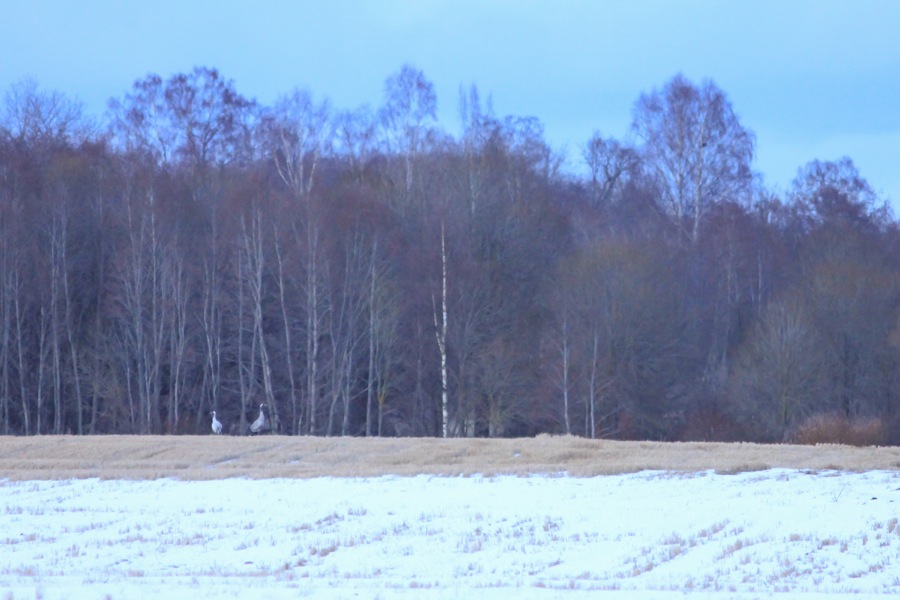 Body
The photo is … well, mediocre, to express it politely. But I didn't want to take the risk of getting nearer. They had just arrived from a long flight, wanted to rest and to enjoy each other's company. They hardly missed me
Crane; Common crane    Sookurg       Grus grus  
On March 21, in the evening at about 18 o'clock, I went to the forest to check my feeding places for birds and top up the food before the cold night. So that in the morning the feather balls would at once have something nice to pick up. 
Suddenly my ears picked up the call of a single crane. It sounded from about a kilometre away. To start with I thought, it can't be – still too cold.
But the crane didn't let up calling for his mate. Evidently one is here and the other not yet, I thought. When I came out of the forest, into open land, the call sounded much more clearly  and now I got a better idea of where it came from. 
When I reached the other side of the river, with a large detour - I had been at home too to fetch my camera - the crane had of course stopped calling. 
I moved silently between the fields where I believed that the crane(s) would be and listened every now and them with short intervals – nothing. Until suddenly I noticed far away at a forest verge about 300-400 m away two grey shapes. 
I looked though the telephoto lens – they really were my first cranes this spring! And a moment later they also performed a crane duet. I was so happy that they had found each other and that they are here again!
Warm spring weather is no longer far away!