Autorid
Video record and investigation Ahto Täpsi
Photo Arne Ader
Translation Liis
Body
Roe deer    Metskits or kaber    Capreolus capreolus
In Virumaa in the Roostoja area the roe buck is out for food. In the bog bilberry kind of pine forest habitat there are not many choices. So an investigation was made to see what goes for food in such a place at this time of the year. He had nibbled at fresh shoots of hare's-tail cottongrass (Eriophorum vaginatum). In pulling them out of the tussock he managed to get hold of the white and sweeter lower parts of the stems as well.
What however annoyed  the foresters was the fact that at the same time he also enjoyed the tops of young pines.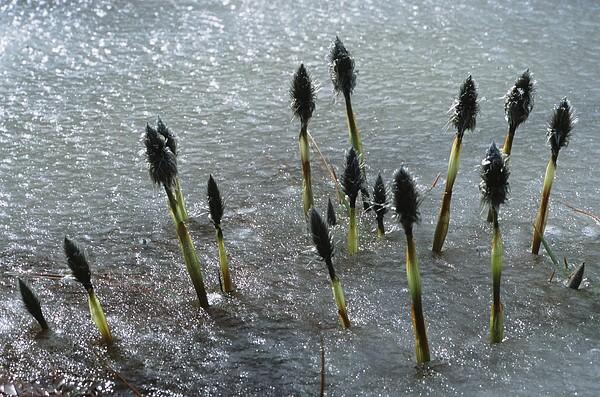 Hare's-tail cottongrass before flowering
Hare's-tail cottongrass     Tupp-villpea      Eriophorum vaginatum
It is probably the best known sedge family (Cyperaceae) species growing in bogs, eye-catching in summer with its white woolly-haired spikelets. Where Sphagnum, or peat moss, grows there we will also find hare's-tail cottongrass. The woolly white spikelets are seed heads, the plant flowers with yellowish flowers from April onwards.