Autorid
Video recorded by Bea, LK forum
Translation Liis
Estonian text published 27.07.2017
Body
Osprey     Kalakotkas         Pandion haliaetus
The first of the young ospreys also made its first flight, a few hours after the young black stork left its nest.
In all ways suitable and safe weather for beginning to fly: wind from the south 3-5 m/s, some 20 degrees of warmth.
The first daring bird was the smaller, judged by eye, presumably the young male Daimar; the larger, female Daisy, stayed in the nest to observe (so the young ospreys are called by the forum since their leg rings start with the letter D). For the young ospreys that had hatched on June 7th and 8th it was the 50th day in the nest.
In the video it can be seen that Daimar is followed by mother Irma who had been sitting in a tree – in order to encourage her son?
For the next few weeks the young ospreys will make exercise flights near the nest and often sit in the trees in the camera view, hoping that the adults will feed them. There is plenty to learn and to gather experiences of life.
In their third year of life the young birds from our nest will already start their own nesting, until then they stray around, to become familiar with co-specifics on the flights and elsewhere. Ospreys in Estonia were on the verge of extinction; in 1985 only 5 breeding couples were registered. By now there are already breeders in 70 nests; precise data will come when the eagle men have made their summaries.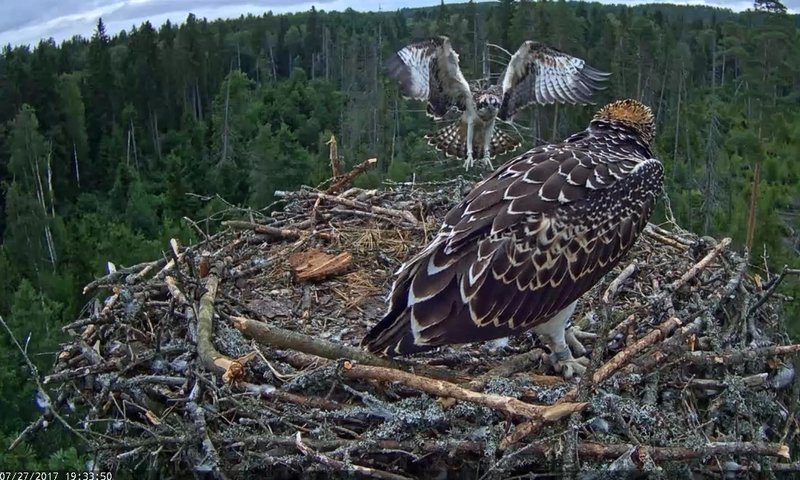 At 7.30 pm Daimar arrived back home. The first training flight lasted 4 hours.  Screencap by  Sappheira, LK forum