Autorid
Video record, images and text Mati Sepp
Translation Liis
Estonian text published 12.08.2017
Body
Video: LINK
I have observed the doings of roe deer on summer evenings but there is always the knowledge that nature is a harsh place to live in …
On the field of 5 hectares there are up to four roe females and a buck. Each has its own corner but until now the females have not brought along this year's fawns.
The reason may be the fox that also visits the fields. It seems as if the fox looks for small rodents but the deer always kept a safe distance to the fox and the fox did not particularly press towards the deer. Usually the fox did not spend more than some twenty minutes in the field, always watched carefully what happened around and sometimes even caught a mouse.
The fox always arrived from a particular forest part and headed nearly always back in the same direction after a small hunting round in the field – evidently the fox too had a family growing nearby. The open mowed field did not seem very likeable to it because it observed every passing car with care and always loped back towards the forest when cars passed.
Quite as the roe deer, I observed the fox from my shelter and wondered if the fox had found the fawns in the vicinity or not?
In areas where the number of foxes is large there is a risk that the predator may find the fawns, and in the order of nature the fawns of these four roe deer will not necessarily grow up because the fox must also rear its cubs to adults. In nature things sometimes work out more harshly than we would like.
The concern was emphasized by the fact that when I went to observe the deer in evenings they were always without fawns. I realised that there were two possibilities: either that the deer reckoned with the fox that patrols the field or that there were no fawns any more. Days passed, it was August and the fawns should already be big enough to move along with the mother and eat grass with the same appetite.
A few days ago I parked my car in the usual place, pulled camouflage clothes on and headed for my observation post. It wasn't long until at a distance of about 50 metres a roe deer rose from the grass. The adult had hid itself skilfully from me because already quite high grass grew there and the deer simply was not visible but likewise it did not hear me arriving. A few moments later a fawn rose nearby, and then another.
My joy was great, I could observe the little ones the whole evening. But when dusk already fell another three-membered family appeared. At least two roe deer "mums" still have their fawns…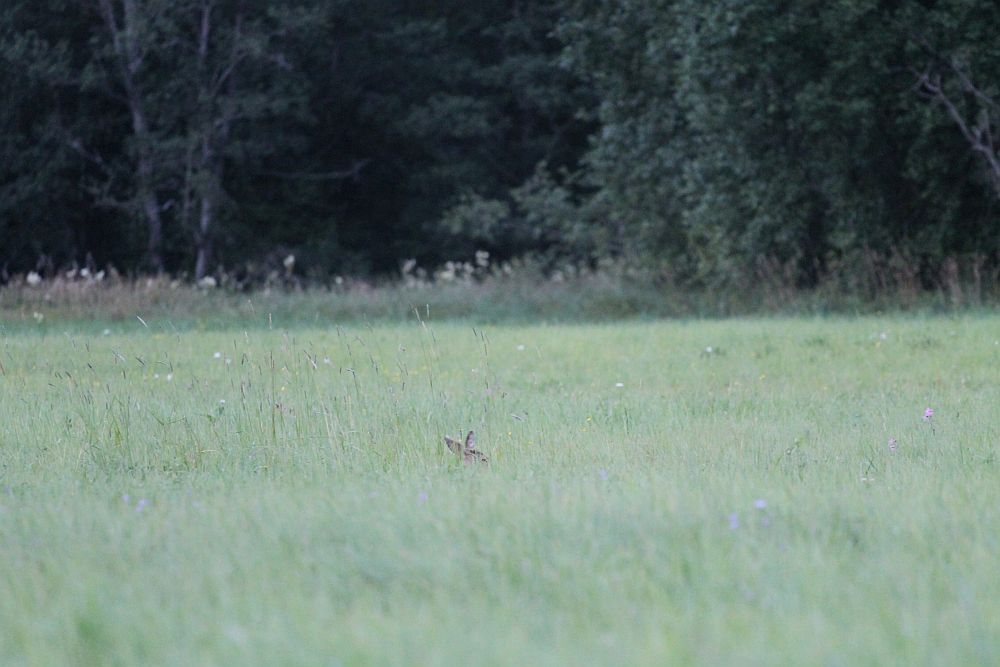 I photographed the "deer mum" when she took a rest meanwhile, with the fawns beside her, but the grass is already so high that even the adult is barely visible.