Autorid
Text,images and video: Tiit Hunt, www.rmk.ee
Translation: Liis
Estonian text published 30.09.201
Body
On Thursday we once more moved the webcam in the Sassi  Peninsula and in the evening we could see how at about twenty minutes past seven thousands of cranes flew past the camera at sea during only  ten minutes. It is likely to happen today as well because the migration of cranes has not finished yet, rather it is the peak period which however may end rapidly with favourable migration weather.

In addition to cranes, the Matsalu Bay area is one of the most important migration passing and stopping places in Estonia for Branta and Anser geese too, and particularly for barnacle geese.
In the large plains of the Sassi Peninsula the migrating birds have plenty of space to stop. On the spring as well as the autumn migration nearly 150 000 barnacle geese pass by here and up to 50 000 geese may stay here at once. There should be enough of them to come into camera view too. The migration of barnacle geese is only beginning to pick up speed; in a couple of weeks great numbers of them should be  here.
In addition to Sassi the main stopping-places of barnacle geese are in Haeska, the Saastna peninsula and the Liustemäe - Keemu shore; the overnight places are in the Lõpe bay, Haeska shore, Topi bay and Salmi bay (the so-called Salmi sea arm).
In addition to the coast meadows here the geese go in daytime to feed in the fields in the neighbourhood and up to 20 km away. Often the geese feed and spend the night near cranes. Besides barnacle geese thousands of bean geese and greater white-fronted geese and up to twenty lesser white-fronted geese stop at Matsalu.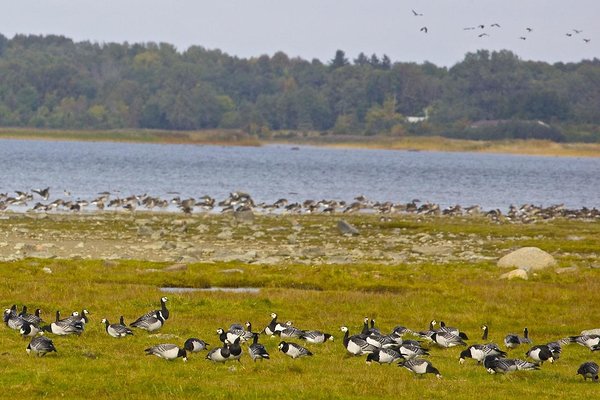 The day before yesterday about 350 bean geese could be seen, busy in the shallow water of the bay, and hundreds of greater white-fronted geese and about twenty grey geese flew past. Of smaller birds a flock of lapwings was evident as well as a group of wagtails and skylarks that every now and then briefly called quite like the springtime song.
At Sassi Peninsula rare birds have always been noted. This autumn Finnish birdwatchers already have seen a snow goose at Põgari-Sassi.