Autorid
Text Tiit Hunt, www.rmk.ee
Translation Liis
 
Estonian text posted 28..11.2017
Body
The first jackals have already visited the illuminated strip of beach. Beginning from the evening of November 24 it is  possible to see what happens on the beach during the dark period. By way of two powerful IR lamps the illuminated area is visible about 50 metres to the water's edge – the swans are visible further away in the sea.
During the illuminated nights two jackals have trotted several times at the verge of the water and one slightly more daring creature came almost creeping up to sniff at the lure offerings at the camera. Fear however overtook him before he managed to get his teeth into a morsel.
The new life style understandably needs getting used to;  the local jackals know each rock and tree stump and the everyday smells in the area. The barely red-glowing rows of lamps in the juniper and others in the open fastened at a pole behind a rock will not go unnoticed, two balls of cable add their smells beneath the juniper.
But the insolent creatures will get used to it all. No wonder that a moment will arrive when one lifts his leg at the camera pole and directs a drill straight on to the "dog"-microphone..
When should we observe the camera in order to see the new species?
On the basis of observations from the last three nights it is of course premature to draw objective conclusions but the jackal is a nocturnal animal and if hunger is not altogether unbearable they will not be seen before dark in the present season. In the previous nights they have been seen at 21.15 at the earliest, later at about 23.20, after midnight at 00.42 and 02.51. The creature that passed the camera on November 24 between 7.42 and 7.45 seemed rather to be a solitary wolf judged from the rather poor images.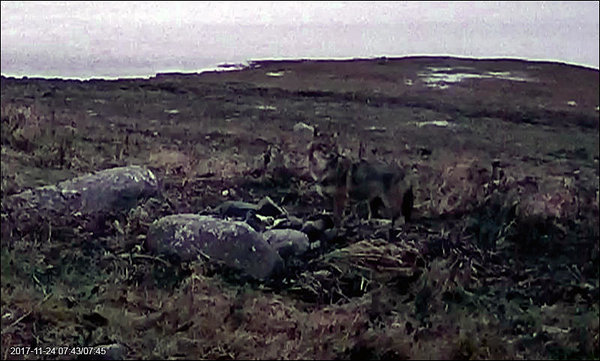 True, here around Metsküla no evening church bells sound: in some corners of the world jackals immediately start howling at it. We however have the Kuressaare-Tallinn aeroplane that passes at 19.42 across Metsküla. The jackals here howl at the aeroplane –almost always. At the brief howl and yapping of the jackals the village dogs also lose their calm and swear for some time at the disturbers of the peace.
Below for comparison measures of jackals and foxes from "European mammals".
Jackal Fox
Body length: 65-105 cm   58-90 cm
Tail length: 20-24 cm   32-48cm
Shoulder height: ca 50 cm   35-40 cm
Weight: 7-15 kg    6-10 kg
All the jackals caught in Estonia up to now have had weights in the 10-13 kg interval.
So a well fed fox may be the same weight as a youngish lean jackal.
PS. The cause of the noise from the installation is known and at the first possible opportunity we will fix it..