Body
Bullfinch    Leevike     Pyrrhula pyrrhula
Most of the bullfinches that nested in Estonia have migrated southwards in the last few months and have now been replaced by migrants from the north and east who mostly remain during the winter – it is their activities that we notice now.
They drift around in groups along fields where weed seeds can be found. Although there were plenty of rowan berries in autumn earlier migrants have eaten the rowan trees almost bare. Seeds from summer, not yet spilled out, are searched for in parks and in ashes and maples around houses. They are busy in lilac bushes, looking for seeds on the ground as well as for buds on the shrubs – particularly of course flower buds.
The black head plumage of the adults shimmers with a bluish metallic sheen in strong light. The black wings are decorated with broad grey bands well visible on a sitting bird as well as in flight view where also the shining white rump area is prominent. The plumage of the young birds from this summer is similar to that of the females but their head plumage is not black yet but rather brownish.
Only the cheeks, breast and throat of the males shine in bullfinch red hues. The cheeks and breast of the slightly smaller females look rosy brown, the grey-patterned back plumage also has a rose-coloured hue. The back plumage of the male seems darker but we recognize him from the shining red parts.
The eyes as well as legs of all bullfinches are brown, and the strong beak black. The body length of the sturdy passerines starts at fifteen centimetres, larger males can weigh nearly forty grams, smaller individuals almost a third less.
There will be many reasons in winter to notice the doings of bullfinches again..
Observations of bullfinches during the last week: LINK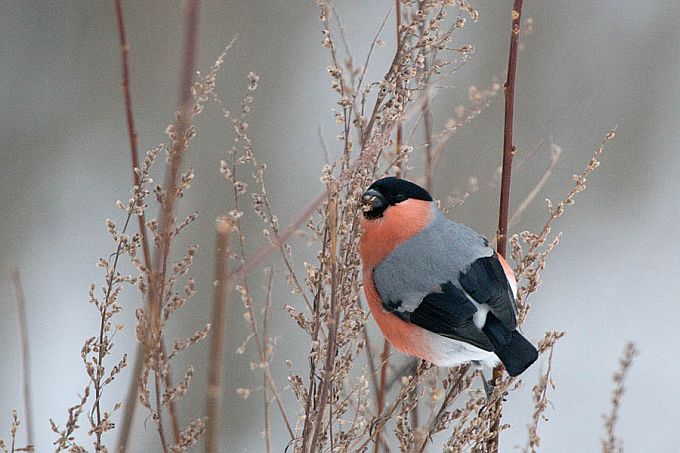 Bullfinch eating mugwort seeds