Autorid
Video compiled by Parabols, LK forum
Translation Liis

Estonian text posted 10.12.2017
Otter's fish hunt
Body
Otter      Saarmas         Lutra lutra
This year the otter visited the spawning ground at intervals of a few days.
What harm can the otter do at a  spawning ground? If it catches a fish with roe it is of course not good. There were more fish with milt moving around. In the food remains of otters at trout rivers such about 200-300 gram sized fish have been noted, only once I have seen a larger fish, about a kilo. So the damage done by otters is not particularly significant.
Instead it is more important that the presence of the otter keeps mallards away from the spawning ground during night but more about that below.
The plunder of the spawning ground by mallards last year was recorded by Fleur, LK forum:
Mallard      Sinikael-part           Anas platyrhynchos
The "innocent-looking" mallards that operate at the spawning grounds of salmonid fish do quite considerable harm there when the water level is low. The whole action in the video looks studied, tested and deliberate.
Mallards can often be seen in autumn at spawning areas where they are seldom encountered in spring and summer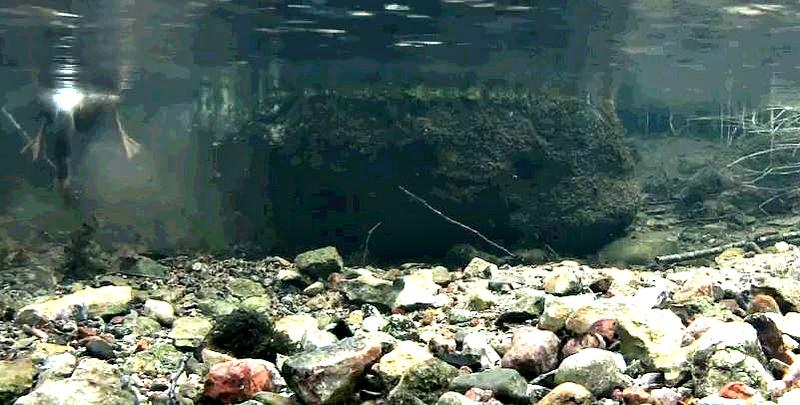 This year the water level in the spawning river was some twenty centimetres higher and the mallards simply could not reach down to get hold of the roe. Screencap from this year by Liz, LK forum
Screencap below by IceAge, LK forum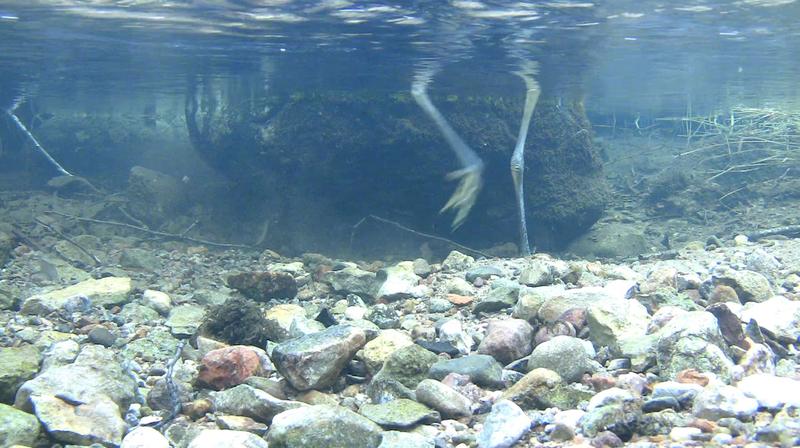 …Whose feet?
Grey heron       Hallhaigur         Ardea cinerea
The grey heron is a large bird; this summer we transmitted webcam images from their colony; so there is no need to describe the bird here.
We saw the heron walking across the spawning ground only a few times. Although fish belong on their food list they mainly hunt for small specimens, about 10 centimetres long. The spawned roe is not interesting for herons, so they are no threat on a spawning ground, but of course they disturb the spawning fish.