Body
Väike-rändalbatrosside (Diomedea antipodensis) elu kulgeb väga aeglases tempos. Sigimist ei alusta nad enne seitsmendat eluaastat, kurameerimiseni jõuab mõni lind alles 20-aastaselt. Korraga muneb albatrossiema ühe muna; poja väljahaudumiseks ja üleskasvatamiseks kulub terve aasta ning samapalju jääb sigimiskordade vahele taastumiseks. Eluaegsete paaride moodustumisele eelneb mitu aastat laulu ja tantsuga pulmarituaale.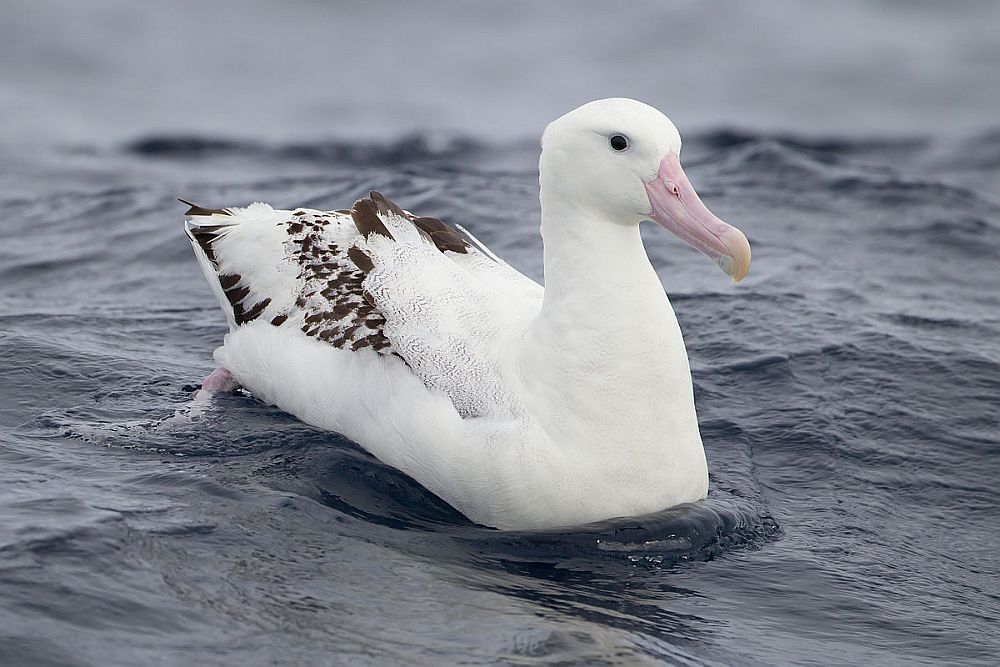 Väike-rändalbatross / foto: JJ Harrison, jjharrison89@facebook.com (Wikimedia Commons)
Kui seni oli kvantiteedi asemel kvaliteeti panustamine end ära tasunud, siis viimasel ajal see enam nii ei ole – aastatel 2004-2014 vähenes väike-rändalbatrosside arvukus enam kui poole võrra. Põhjuseks on soojeneva ookeani tõttu vähenev toidubaas, mis sunnib linde üha kaugemale merele lendama ning otsima toitu ka kalalaevade lähedusest. Kuna oma toitumisalasid Uus-Meremaa ümbrusest intensiivsema kalastuskoormusega piirkondadesse on laiendanud just emased väike-rändalbatrossid, hukub kalapüünistes kaks korda rohkem emaseid ning hulk isaseid jääb paariliseta. Selle tulemusena moodustub vähem paare ning järgmine põlvkond sünnib veelgi väiksemaarvulisem. Kui arvukuse langus sama kiirusega jätkub, on 20 aasta pärast alles vähem kui 500 paari väike-rändalbatrosse.
Meres hulpiv plastik, invasiivsed liigid ning ohtlikud kalapüünised on ohuks kogu albatroslaste sugukonnale. Kaaspüügi probleemi on asunud lahendama Briti linnukaitseorganisatsioon RSPB (Royal Society for the Protection of Birds), kes õpetab kaluritele linnusõbralikumaid püügiviise ning osaleb koos kohalike organisatsioonidega seadusloomes. Lindude püügivahendite lähedusest eemal hoidmisest saavad kasu ka kalurid, kuna enne hukkumist jõuavad merelinnud õngejadades ning traalides hulga sööta hävitada.
Loe täpsemalt:
BirdLife International 22.12.2017 Two males for every female: Antipodean Albatross in breeding crisis.
Väike-rändalbatrossi infoleht linnukaitseühenduse BirdLife International kodulehel.
Riin Viigipuu
info/at/linnuvaatleja.ee