Body
Sitting on the balcony at my cottage, I get confused by the sounds of a bird. It whistles. And it is confusing, because there are two birds who whistle rather similar tunes.
When there is a bigger, whistling bird whose flight resembles jumping, coming from the direction of Tammesõõru, it is a Eurasian jay. But the other one, whose whistle, almost a scream, is heard from high up between the treetops and sometimes over the meadow beyond the creek, is the common buzzard.
After the hay has been cleared from the meadow, the common buzzard likes to come and sit on top of a big stick stuck in the ground marking a big rock for the tractor driver. This, now, is a "good time" because I can definitely recognize the common buzzard. We have three kinds of buzzards in Estonia: the somewhat darker ones are the European honey-buzzards and the rough-legged buzzards; the last ones, as their name indicates, have "hairy" legs. Right now all three can be seen in Estonia, and as some of the buzzards can have quite dark colouring, it can be most confusing.
Real bird-men maintain, that they can always tell the difference between the buzzards by their flight patterns, but they suggest, that if somebody asks a layman, who the dark bird of pray up there really is, you just say: a common buzzard.
My brother Enn Vilbaste, who has treated several badly hurt buzzards at the Nigula wildlife shelter, says that the only sure way to tell the difference is, that the European honey buzzard has oval nostrils while the common buzzard's nostrils are round. But we are mostly unable to see that.
However, there is quite a difference in their behaviour. The European honey-buzzard will eat wasps. This is a very good year for them, because we have loads of wasp nests in the ground that the buzzards can dig into.
The common buzzard, however, feeds mostly on mice; mice comprise over half of its diet. Lately we have been able to watch the nesting life of the common buzzard with the help of a webcam set up by Looduskaamera, and it is thrilling. But we can also follow the actions of the common buzzard just standing by the meadow. It's amazing how easily it will catch a mouse with its claws.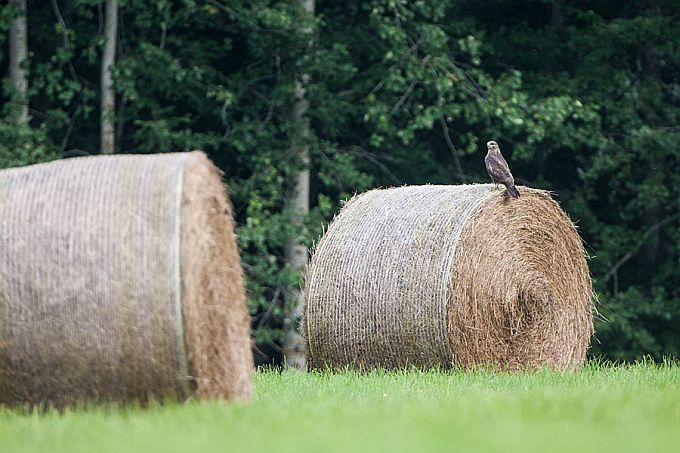 Common buzzard
It's easy to see common buzzards right now sitting on top of hay bales because that's where they can best hear and see the mice. The farmers say, that there is a mouse under at least every third bale of hay, the buzzards know that and that's why they also bring their young to teach them mouse hunting.
Many common buzzards don't leave us for the winter and then we can see them rocking on the electric lines.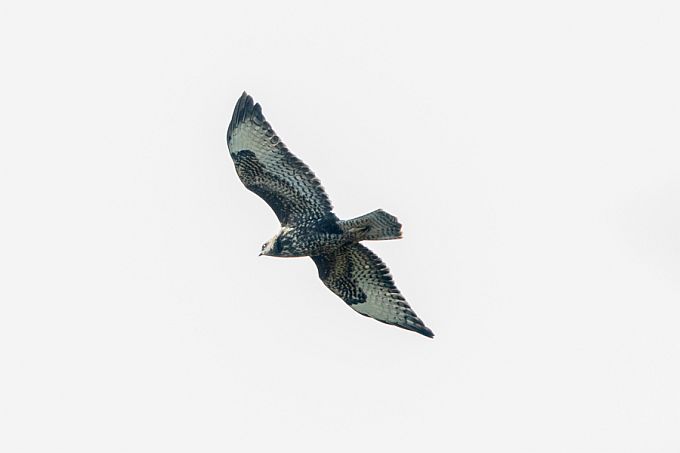 Common buzzard