Body
Common toad      Harilik kärnkonn        Bufo bufo
On Saturday evening, I had the opportunity to keep company with a toad gentleman at an evening meal that started at half past five and lasted almost an hour and a half.
Why a male? The individual was some eleven centimetres long, smart and dignified. Somehow I did not want to class the creature as a female because old females may be even larger than fifteen centimetres in body length and, as fits dignified ladies, appropriately portly.
The place for the evening meal was well chosen, on the verge of the mowed area of the courtyard where low-growing flowering Galiums, speedwells, milfoils, buglosses … grow.  A spot where insects gather to have supper.
The evening meal consisted of all kinds of small flying insects and midgets that he lapped up with his tongue every ten (on average) seconds. Flies and mimicry-coloured flower or syrphid flies also became food. The spot was chosen so that the gentleman almost did not need to move at all, and no wonder because the body needs  to store up reserves for a half-year long winter. In summer I didn't  meet any toad around this spot; with the drought the creature may well have been in summer hibernation.
The first of this year's little toads-to-be I managed to see gambolling around in August – rather clumsy, how  will they within a couple of months ever manage to collect the necessary food reserves for the body because on top of all they spend their tadpole period as herbivores.
Back to the evening meal of the male toad. That toads hunt all possible kinds of invertebrates - snails, slugs, beetles and their larvae, earthworms -  is well  known and I really expected that the toad gentleman would go on a hunting trip and that I would be able to accompany him there.
Briefly, the greatest and most surprising prey turned out to be the hairy bumblebees with their stings: they were lapped up with the tongue as quickly as smaller creepies and the toad munched them down without batting an eyelid.
We didn't go on a hunting trip. When the evening meal was eaten he lay down some tens of centimetres away to rest. He searched for a more comfortable position and scraped soil on to half of his hind quarters. Studying the tracks of the activity it seemed that the creature might have spent a week in this spot.
The Sunday the gentleman slept off  totally and neither did he go on a hunting trip on the night towards Monday.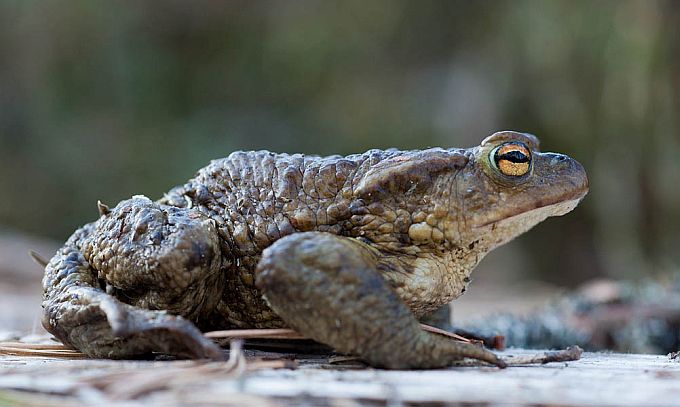 Common toad