Autorid
Text: Jaan Riis, Looduse Omnibuss
English translation Liis
Estonian text posted 07.10.2018
Image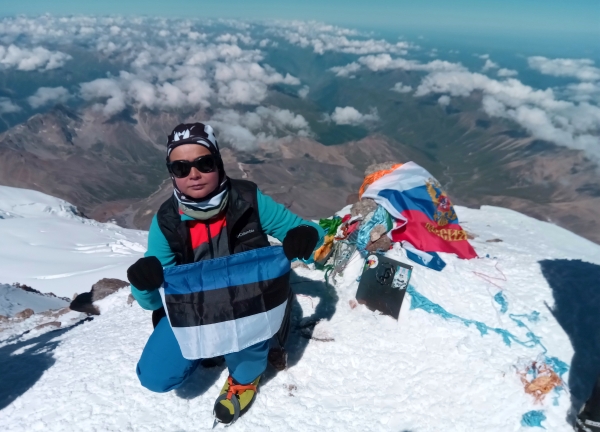 Body
The 20th season of the Looduse Omnibus Nature Nights at the National Library in Tallinn starts on Monday October 8th at 18.00 Estonian time  with the Night of Mountains. Our guests are young mountaineer Uko Nõulik, the EV100 anniversary year Estonia Expedition leader Raivo Plumer and the group Bonzo.
On August 14th this year the youngest Estonian mountaineer until now, 12 year old Uku Nõulik,  reached the tip of the highest peak in Europe, Elbrus. On Monday he will talk about how he prepared for this and how easy  or difficult the conquest of the peak was.
At the same time Estonian mountaineers again went to conquer the summit of Estonia.. It took 28 years until Estonians this summer once again reached the tip of the peak named after their country. It was the 6211 m high peak in a difficult to access  area in north-eastern Pamir that the mountaineers chose to climb to celebrate the 100th anniversary of the Estonian  Republic. The reason for the choice was in the first place the name of the peak but also a desire to test their powers on this high mountain and to relive the experiences of their predecessors. Since two members of the expedition this summer also took part in the ascent in 1990 they had a good opportunity to compare conditions  then and now. The peak got its name in 1960 when Estonian  alpinists were the first to climb it. It was the first ascent overall by Estonians to an altitude above 6000 meters.
Judging in retrospect it may be said that in the Soviet Union years it was simpler to access the area than today, for political as well as nature reasons.The leader of the expedition, Raivo Plumex, will talk about  the conditions on the slopes of the mountain and what ordeals the climbers experienced that year.
In the musical part of the Mountains Night Bonzo will sing.
At the Nature Night the Estonian Nature Conservation Society will introduce a new large-format volume, "Eesti rahvusmaastikud sõnas ja pildis (Estonian national landscapes in words and images)".
The Nature Nights in the National Library take place since 1999 every Monday from October until May. The range of topics is wide: environmentalists, scientists, culture profiles and musicians participate. All interested and concerned parties are welcome. The event is supported by the Environmental Investment Centre, KIK.
NB: Direct web transmission:  www.looduseomnibuss.ee/otse .  Recorded nights can be seen at  www.looduseomnibuss.ee/loodusohtud