Autorid
Text and illlustrations provided by Tiit Hunt, www.rmk.ee
English translation Liis
Estonian text posted 13.10.2018
Body
Yes, the nature cameras work, when they work, still on line and among the wildlife – storms, mice, cows,water,ants and all the other wild life.
On the Sassi peninsula the video images from the migrant camera were splashed by cattle, and the badger camera images from Nasva in Saaremaa were devoured by mice – tooth marks here and there causing  short circuits on the hundred meters long cable.
Once in the Tehumardi area hundreds of ants at the badger den discovered that a good place for their nest was directly in the camera between all kinds of small widgets; it became too much when they started to run unceasingly across the sensor.
In the Haeska migrant camera water crept recently into the sound cable and started crackling in it. Somehow it reminded of the legendary Finnish sports star's famous reflexion  – elämä on laifi life is life.
Now we can again follow events in the badger den until November when the camera once more will get a place at the familiar deer site.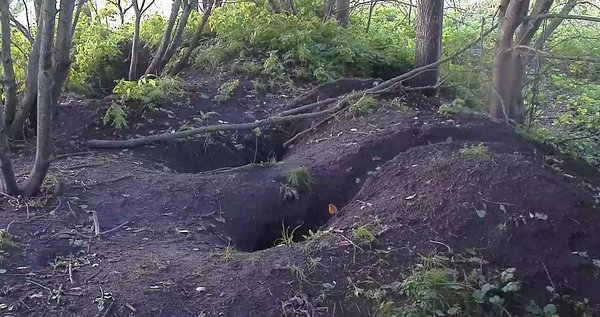 In September the badger family was often at home and it was often possible to see them in daylight too in mornings as well as evenings; only the male badger was still missing from the family idyll.
The roaring sounds coming from far off  told about the heat period of the deer and the voices of cranes of the overnight area for the migrants in the nearby field. Vocal exercises sounding like springtime at the camera were made by a chiff-chaff and the robins liked to keep busy for days at the burrows of  the beaver den hillock.
We don't know why the tawny owl found it necessary to call in the autumn night; maybe it was a young bird doing vocal exercises so that at the nesting time in late winter its hooting should be ready for finding a partner.
Uno brought apples once and a second time plums for the badgers – the badgers ate it all quickly and didn't save them for Christmas. They were particularly fond of the plums – one young badger threw himself on top of the plum heap to keep more to eat for himself. The apples were treated otherwise, most of them were brought piecemeal into the den.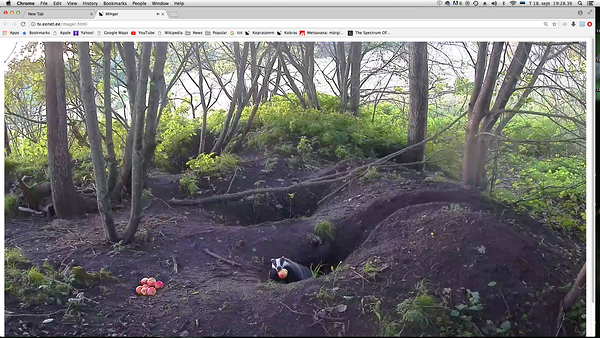 As befits autumn the female badger and the two youngsters are nicely plump; we will see how they fare in  October.
PS: Many thanks to Olle Koert from  Teetormaja, who found a solution to the mischief of the mice and brought the badger camera back online.