Autorid
Animation created by  Yitmoth, LK forum
Estonian text posted 04.07.2019
Image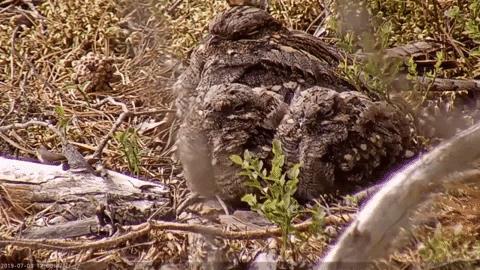 Body
Male bird serves as single parent during daytime
Nightjar            Öösorr         Caprimulgus europaeus

 
The male has become a companion to the already three weeks old juveniles, or someone under whose wings they can hide their heads in rainy weather; there is no longer room for more. We did not actually expect to see the birds in action around the nest for such a long time. In any case an interesting experience.
How far away might the location selected by the female for laying a new clutch be?
It is quite probable that she is laying a second clutch in the vicinity but whether this will be in view of the web camera is another question. According to literature the nest should be within a radius of a hundred meters from the first nest.
Video posted by Yitmoth, LK forum
The video shows a late night view from about half past three; good that we see the activity from a little distance. Showing the juveniles his arrival, the male settles down lengthwise  on a dry branch as is the custom of nightjars.
Of course the ever hungry – or pretending to be so – juveniles hope to be fed by him but it seems that this was unsuccessful because to give up the "food packs" the male must open his gap from which the bird being fed has to get out a pack on its own. This has been practiced for three weeks  already .
A little later the birds moved out of camera view.