Autorid
Video saved by Olle Koert, www.tt.ee
Photo by Arne Ader
Body
Great spotted woodpecker       Dendrocopos major
The numbers of our most well-known woodpecker far surpass all other woodpecker sub-species in Estonia. There were more than fifty thousand breeding pairs of great spotted woodpecker this year. 
If you happen to see the great spotted pecker in the summer, take a note of its crown (on the top of its head): young peckers have red feathers on the top (see Arne's photo below), adult male has a small red spot at the back of its head, whereas the top and the back of the female adult's head are black-feathered.  
The chicks of great spotted woodpecker have become independent. By mid-May the female had laid up to seven eggs in a clutch and by early June the chicks had hatced. The males had excavated new nest-holes, which my Midsummers Eve were vacated.   
Webcam viewers will remember that this nest-box was used by a breeding pair of great tits this year. The woodpecker is now increasing the size of the entrance hole, perhaps to use it for taking cover during nights or winter-colds (we will get to see it).    
So we can consider that great tits will be unable to use this nest-box next season. The enlargened entrance hole can be used by starlings, who displayed some interest towards the box earlier in the spring.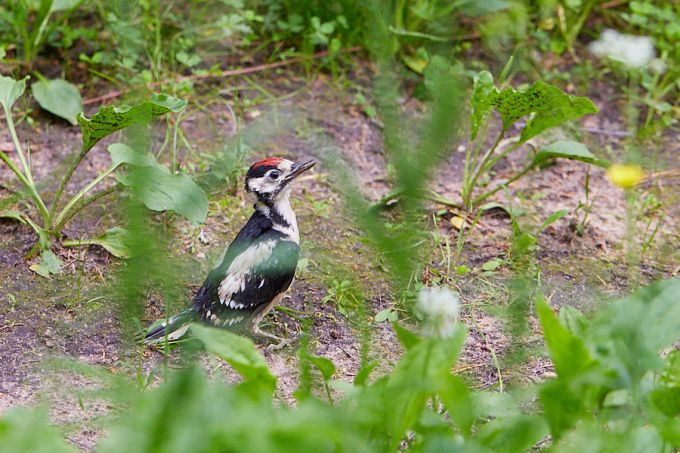 Great spotted woodpecker chick (www.loodusemees.ee)