Autorid
Text  Margus Ots, Coordinator of Great Tit Year
Translation Liis
Body
The second clutch of great tit chicks have left the nests now and the webcams at the nests close. The images from the webcams at the great tit nests were set up in cooperation with the Silma Märgala SA and Teetormaja,  the forum was organized by  Looduskalender, data transmission went by EENet, Teetormaja, Tele2 / Televõrk and Elisa. Many thanks to all helpers!
Through the webcams we could follow the nest life of the 2016 Bird of the Year, the Great tit, from nestbuilding and until the chicks left:
Nest box  1
 The first egg in the 11-egg clutch was laid on April 23rd.  The chicks hatched on May 16th and all left the nest on June 3rd when they were 18 days old.
The great tit  started laying the second clutch in the same nest box on June 6th, only 3 days after the departure of the first chicks. In the second clutch there were 8 eggs. The chicks were hatched  on June 24th and 25th (one egg stayed unhatched) and 7 chicks left the nest on July 13 when they were 19 days old.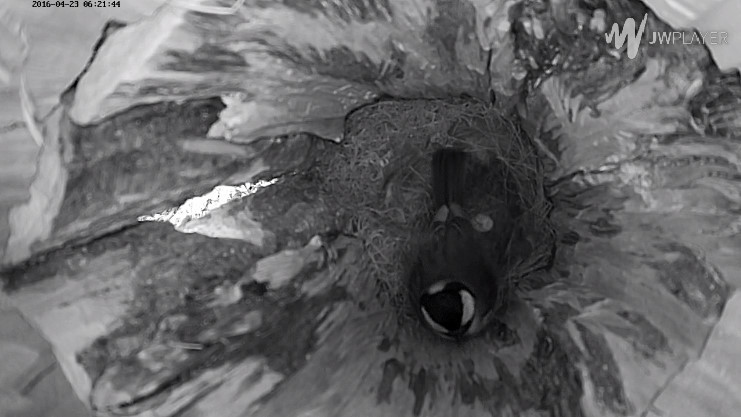 :
The first egg, 23.04.2016 / photo: Shanta, Loduskalender's forum
Nest box 2
The great tit laid the first egg on April 27th, and  the chicks from the clutch of 9 eggs hatched  on May 18th. The tits did not lay a second clutch in this nest box.
Great tit chicks leaving nest. Video recorded by Urmas Lett,www.eenet.ee:
Nestbox 3
The first egg was laid by the great tit on May 1st, but on May 10th  a wryneck plundered the nest, throwing out 10 eggs and also a part of the nest materials. The next morning the great tit laid another egg in the nest but despite this abandoned the nest. Later a pied flycatcher came to inspect the nestbox several times, but did not stay to nest there.
Wryneck looting great tit nest. Video recorded by Olle Koert,www.tt.ee:
Nest box 4          
The webcam that had been at the tawny owl nest was placed at a great tit nest box after the tawny owl chicks had left their nest, but nobody came to nest in the nestbox this year.
The Great Tit Year activities are supported by the Estonian Fund for Nature, Keskkonnainvesteeringute Keskus.