Autorid
Video recorded by Fleur, LK forum
Translation Liis
Body
Grey seal         Hallhüljes       Halichoerus grypus

 
Ringed seal    Viigerhüljes or viiger       Pusa hispida

 
"The greys" are busy on the seal beach since a couple of weeks already. On the Baltic Sea side  there is at the moment about the same temperature in air as well as in the water, around +3 degrees (the air temperature will of course be reduced by wind chill). The beach has never been quite empty of seals during this period.
Large, dark-coloured coats are worn by old powerful male seals; on their necks we can notice larger and sometimes scarred skin folds. The body length of adult male seals can be two and a half meters, weight a quarter of a tonne or sometimes even more..
The fur of females and juveniles is lighter and speckled (the patches on the fur of females seem more strongly contrasting), belly fur lighter than the fur on the back, and the weight is lower too as we can notice in the camera images.
A surprise visitor some time ago was a ringed seal.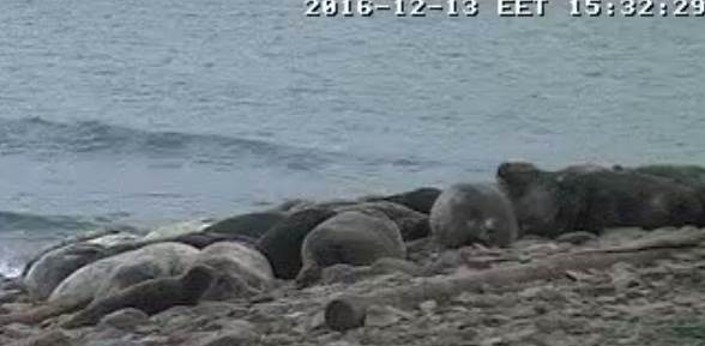 Regrettably we have no hard disk record. The first one from left, smaller than the others, should be the ringed seal. A rare occasion to see the "relatives" together like this.  Antti Karlin captured the image in the evening dusk.
How to tell a grey seal from a ringed seal? While the head of a grey seal appears triangular, the head of a ringed seal is round – like that of a cat. The length of adult ringed seals is only up to one and a half meters and the maximum weight is usually reached in autumn, up to a hundred kilos.