Autorid
Screencaps from webcam  Tatyana, LK forum
Estonian text posted 03.06.2019
Image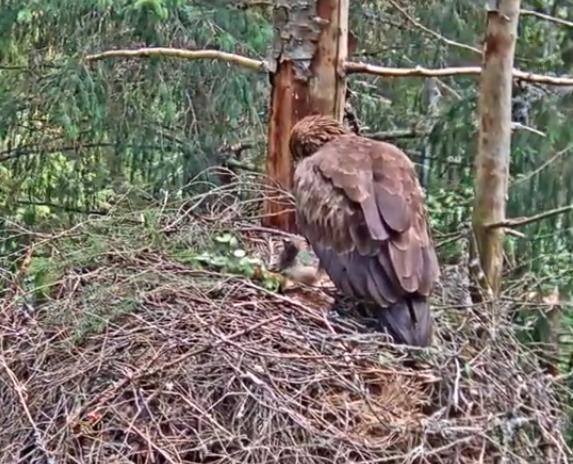 Body
Mother  Tiiu and hatched eagle chick
Greater spotted eagle       Suur-konnakotkas        Clanga clanga
The nest life of the greater spotted eagles started already on April 23 when Tiiu laid the first egg. Laying another egg takes time for the large birds and we saw it in the nest on April 27. 
Greater spotted eagles have a long incubation period and it took forty days, or until June 2, to the hatching of the first chick .
It is a truly rare opportunity to observe the nesting of the famous male eagle Tõnn and Tiiu because there are only two or three breeding greater spotted eagle pairs left in Estonia where both adults are of the same species (in the others already hybrids of greater and lesser spotted eagles nest).
Long-time viewers know that a hatched chick grows almost visibly.
We will surely have more to discuss about the nest life.
Male Tõnn to the left has brought a morning meal to the family. The bird marked with an arrow is a jay
Follow the postings in the LK forum: LINK