Autorid
Videos recorded by  Freddie, LK forum
Estonian text posted 04.09.2019
Male Ivo still feeds young birds Pilvi and Nele who are busy near the nest
Body
Osprey             Kalakotkas           Pandion haliaetus 
The young ospreys  are  three months old and they will not be seen around the nest for long any more, Male Ivo still feeds the young birds quite generously and with reason because the independent life of the young birds on migration is not an easy one, particularly when the skills of fishing are still only recently learned, Today the cries of the young birds near the nest are still to be heard.
The female as well as one of the young birds has already gone on migration.
Image from web camera  Tatyana, LK forum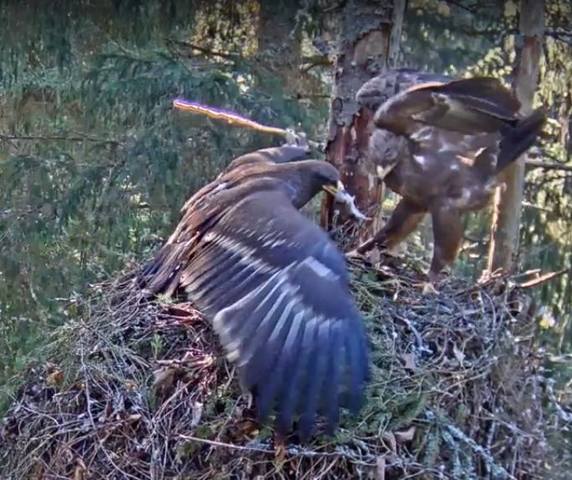 Female  Tiiu brings prey to the nest
Greater spotted eagle           Suur-konnakotkas        Clanga clanga 
The day before yesterday the chick Tuule of the greater spotted eagle pair Tiiu and Tõnn was three months old  – the whole family was present.
Tuule is quite aggressive in taking over the prey from the adults, as if he does not understand that it is meant just for him.
Near the nest we hear from time to time the shrill calls of Tuule, part of the prey is probably passed outside the view of the nest camera by the parents – pity that we cannot see this .
Web camera image  Timea, LK forum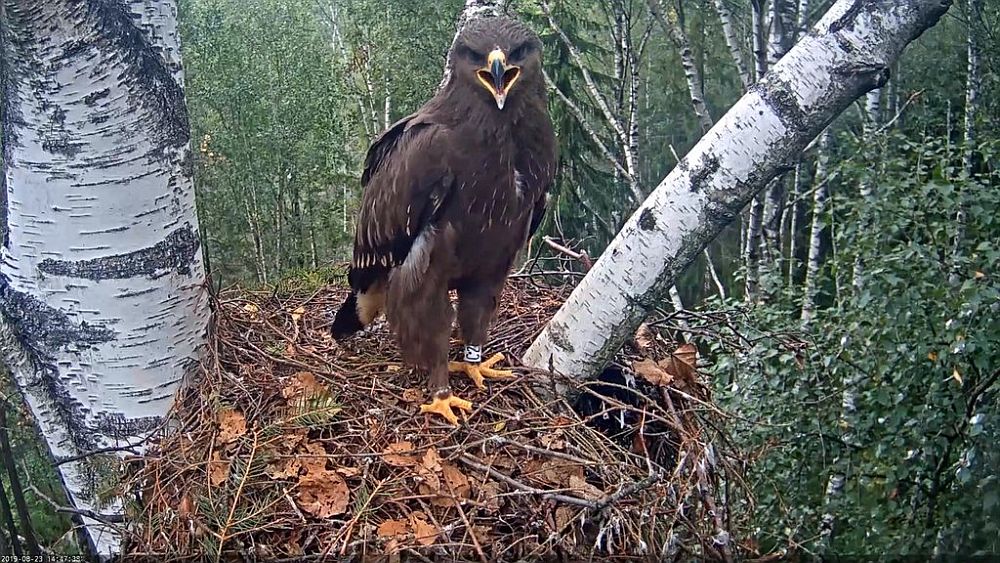 The last time we saw young bird Maili in web camera view was on August 23
Lesser spotted eagle          Väike-konnakotkas        Aquila pomarina 
In a week the inhabitant of this nest will be three months. We have not seen the young bird in the nest but during the last days its food begging in the mornings is heard.
The feeding of the young bird should be easier for the adults at the end of summer since the crops in the neighbourhood fields have been harvested and the rodents busy there are clearly visible. The adults too need to prepare for the migration.