Autorid
Video recorded by Ahto Täpsi
Photos Arne Ader
Translation Liis
New black woodpecker nest hollow with its owner and its calls
Body
Back woodpecker calls in Loodusheli (Nature sounds): LINK
Black woodpecker    Musträhn or nõgikikas     Dryocopus martius
Thanks to the black woodpeckers that in each early spring establish new nest hollows for themselves in the following years these new ones have other grateful users such as a Tengman's owl, stock dove, European roller, upupo, goldeneye or why not a squirrel.
Black woodpeckers inhabit large but light conifer or mixed pine forests; the nest is built in an old aspen, pine or alder trunk, at more than eight metres (other woodpeckers will not make their nests so high up). The diameter of the flight opening is about 10 centimetres but the nest hollow, hidden from our sight, must be at least half a metre deep. This chopping work takes a couple of weeks for the bird, or sometimes longer; the time it takes depends on the strength of the tree species.
The female lays three to five eggs into the nest and in some nests there may already be eggs. It seems that we will have to look at the activities of black woodpeckers more in detail soon.
After the greater spotted woodpecker the black woodpeckers should be next in numbers; breeding pairs are between six and nine thousand.
The traces of a black woodpecker's hammerings
In the photo we see the traces of the black woodpecker's activities to find carpenter ants /Camponotus herculeanus / that live rather hidden. They are the largest of the ants in our nature, black-coloured and almost one centimetre and a half long. Due to their hidden way of life they usually remain unnoticed by nature fans strolling in the forest because the carpenter ants create their nest in an already dead tree or the lower part of a still struggling conifer but also in remaining stumps. Other ants are less often harassed.
In general the black woodpecker feeds on forest pests: the larvae of bark beetles (Scolytinae), longhorn beetles and other insects. In their quest for food the birds manage to demolish remaining stubs and dried trees with their strong chisel-like beak and sometimes hammer holes in the wooden walls of buildings and summer homes standing empty in the winter…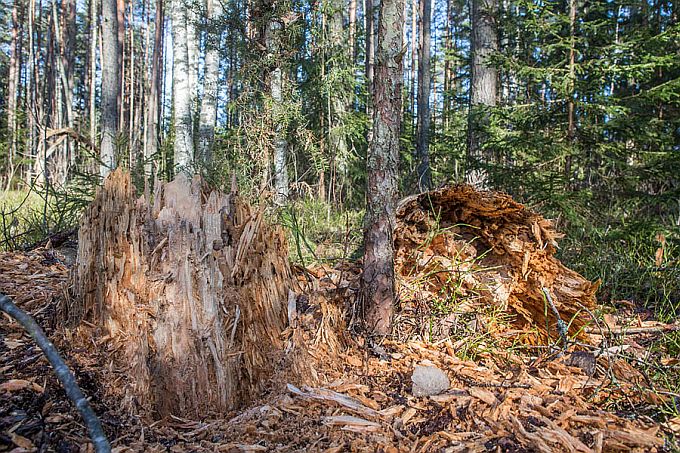 Pine stump demolished by a black woodpecker
Black woodpecker observations: LINK