Autorid
Information from Tiit Hunt, www.rmk.ee
English translation Liis
 
Estonian text posted 21.09.2018
Body
On their migration wigeons (Anas penelope) have arrived in Haeska, on the green grass turf directly in front of the web camera. 
Today up to some twenty male birds were eating for hours and with unabated eagerness the salty grass that had risen out of the water   – wigeons often feed in coastal meadows, like geese.  
The larger flock at sea now and then drifted into camera view on their search for food, rumps upturned. The wigeon is a swimming duck and although its body shape is more like that of a diving duck it does not know how to dive on a food forage .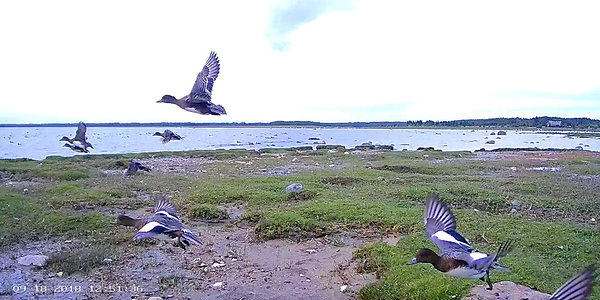 The wigeon is a numerous passing migrant on the Estonian coast and also at mainland water bodies on the autumn migration in September and October. It is a rare nesting bird in Estonia, mainly in East Estonia; the number of nesters is estimated at up to 100 pairs. On the autumn migration tens of thousands of wigeons stop at Matsalu bay and the Haapsalu Tagalaht, also at Väike väin and the Häädemeeste–Võiste shore.
So far only males have been seen in camera view: nesting on the tundras of northern Siberia perhaps it has taken longer for the females to care for the chicks; they may arrive a little later or they have simply not come into camera view. 
Of other duck species gadwalls and  mallards that just have finished their moulting  have been seen to date; mute swans came to sleep at the camera and a white-tailed eagle once scared the whole bird company away …