Autorid
Text and illustrations  Tiit Hunt, www.rmk.ee
English translation Liis
Estonian text posted 08.10.2018
Body
Last week the barnacle geese reached Estonia and came into the Haeska camera view too – they were clearly a couple of weeks late or even more. The warm weather kept them in place in the north until the last moment and so they were not seen in September except a few small groups of local origin.
Yesterday's radar observation in Esivere showed for the first time this large migration of various bird species from the Arctic that reached an order of hundreds of thousand individuals. A favourable slight northern wind set the birds moving.
In addition to the barnacle geese thrushes were migrating in large numbers; night-time migrants were mostly song thrushes and redwings, fewerfieldfares. black-throated loons, velvet scoters and common scoters were also migrating.
The Arctic migration  proceeds at full speed, 15000 wigeons passed between  Põõsaspea and Osmussaar in a day. A week ago there was a mighty dunlin migration,  migration of the greater white-fronted geese however has not even started yet .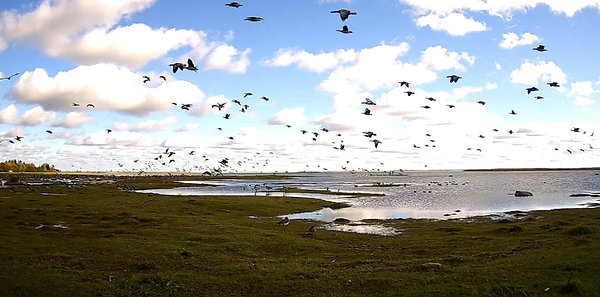 It is understandable that the larger part of the migrants remain unseen by us because night migrants flying low may be identified by their calls but the bird flocks flying high up are neither heard or seen – or we are simply in the wrong place. In the video we see for a moment the barnacle geese that have just arrived to the Haseks beach, then also wigeons, some solitary grey geese, woodcocks, mallards and others. 
Now a good time starts to head for the western Estonian coastal meadows, fields and bird towers to observe the barnacle geese, Anser geese and other migrants – it can be impressive.